The library contains books for all grade levels, ranging from beginning readers to leisure reading and reference books for high school students.
Mrs. Amy Donathan is the certified media specialist. Mrs. Donathan is always available to help you find what you need in the library.
Search the library card catalog here

or find more databases on Mrs. Donathan's Web Page.

Howe students can earn rewards through Mrs.Donathan's "Reading Incentives" Program. Prizes are provided by Pizza Hut, BNB Convenience Store, Sonic Drive-In, and Subway.
Reading incentives for the 1st - 6th grades are offered through the Pizza Hut Book It! Program.

1st - 3rd grade goals are as follows:


October, 5 Reading Counts points;
November, 10 points;
December, 25 points;
January, 50 points;
February, 75 points;
March, 100 points.



4th - 6th grade goals are as follows:


October, 10 points;
November, 25 points;
December, 50 points;
January, 100 points;
February, 150 points;
March, 200 points.



7th - 12th grade incentives are sponsored by BNB, Sonic, & Subway. Students receive incentives when they reach the following milestones:


10 points
25 points
50 points
100 points
every additional 100 points.


All students must maintain a quiz average of at least 60% in order to qualify for incentives.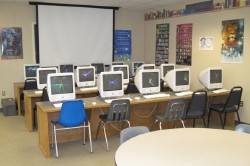 The media center is equipped with fifteen Internet capable computers and the latest audio/visual learning tools. Students and teachers use the media center as a "computer lab" for class projects and Internet field trips. With the use of headphones, students get the benefit of individualized instruction using special software packages.
Visiting speakers use the media center for presentations to small groups. This setting provides a much more intimate feel than the "big room" in the Professional Development Center.