| | |
| --- | --- |
| Webmaster's note: | If anyone has photos or documents we could scan and add to this page, it would be greatly appreciated. |
In 1901 Dr. Allen, Chief Surgeon for the Choctaw, Oklahoma, and Gulf Railroad, sent Dr. Samuel C. Dean from McAlester to Howe to supply medicinal needs to this booming town. Dr. Dean relates, to his amazement, that here was a town of about three thousand people, which had plenty of churches but no school for the children. Soon after Dr. Dean became settled and accepted as a citizen of major influence in Howe, he set out to help establish a school. He wrote Mr. Ballard, the Indian agent in Muskogee, to see what could be done about getting a school established in the community. He was advised that the town could float bonds on the property of the town in the sum of $4000 to $5000 for the purpose of building a school. By 1904 the preliminary work was done. The bonds had been floated, and a four-room brick building had been built. This first school was a two-story building with two rooms below and two rooms above, and it housed eight grades.
According to records of an early meeting, this school was founded to meet the demands for practical, useful education. Its purpose was three fold in that man is three-sided in nature. The first purpose was for physical education, which was to develop habits that would make for health and vigor of the body. The second purpose was for intellectual education, the education of the mind. This was to be the intellectual education, which would enable a man to think more clearly, feel more deeply, and act more wisely. The third purpose was for moral education, which would educate the heart and would tend to prepare the student to recognize his moral obligation to himself, to his neighbor, and to God.
From this beginning a high school was developed, that was in minds of many citizens of the era, was second to none in all eastern Oklahoma. All students of his school had to take entrance examinations before they were allowed to enter. They were boarded in good homes in the community at a cost of $12 to $14 per month. The tuition for the first, second and third grades was $1.50 per month; for the fourth, fifth, and sixth grades it was $2.00 per month; for the seventh and eight grade it was $2. 50 per month; and for high-school tuition were $3.00 per month. For courses in music there was an extra tuition of $3.00 per month. All tuition must be paid either in cash or with certain produce at its market value. It was to be paid by the end of each month unless special arrangements were made.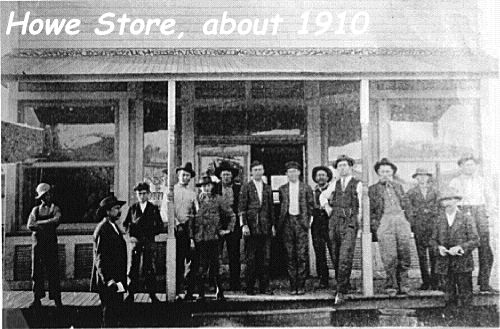 Pictured left to right: Boy ,- Pleas Bennett, Howard Wellborn (druggist, approaching with letter in hand), Boy (unknown) ,Willie Evans, Boy (unknown), Roe Holliday, Arch Carr, Tine Blassingame, Mr. Evans (father of Willie), J. C. Carr, wearing vest (Postmaster from 1900 to 1958 & General merchant), Davy Crockett (Judge, Town Justice of Peace), Boy (unknown), Pete Wise (Town Marshall, standing on ground), Lum Jackson
---
Howe High School Graduating Class of 1915

click to enlarge

This scan of the graduation announcement for the Howe Class of 1915 was provided by Jewel Clark.

The original announcement and the pictures below were preserved by the daughters of Neva Lee Garrett (Anna Health and Juanita Wright), one of the four 1915 graduates.

Judging from their class motto, Minnie, Maggie, Bea, and Neva must have been highly involved in music! Can you decipher their eight word motto?


click to enlarge

A young Neva (right) with a friend.

After graduating from Howe High School, Neva attended college at Wilburton and Durant.

The picture on the right was taken in Durant.


The picture below is of "Miss Neva" when she was the school teacher in the Kennedy community, near Wister in 1920.

She married Hugh Clark in Poteau.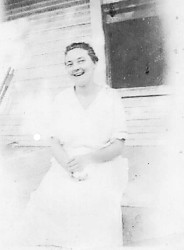 ---
Howe High School Graduating Class of 1917
Neva Garrett's younger sister, Viva Dee, is with her in this picture - along with their Uncle and "Aunt Laura".

It is believed that Uncle W.E.S. McClain operated the Howe Gin about 1912-1920.

Viva Dee was two years younger than Neva and graduated from Howe High School in 1917.

Thanks to the children and grandchildren of Neva Lee Garrett Clark for these wonderful additions to the History of Howe Public Schools.


click to enlarge


click to enlarge


click to enlarge
---
In the early 1930's, the 1904 building was torn down and the Works Progress Administration (WPA) built a new, completely modern school on the same site. This included a grade school building, a high-school building, and a gymnasium. In 1935 an auditorium was added. With this new school and facilities came the first school bus that was a privately owned truck driven by Cecil Cox. Soon there after the first regulation school bus was added and driven by Oscar Blassengame.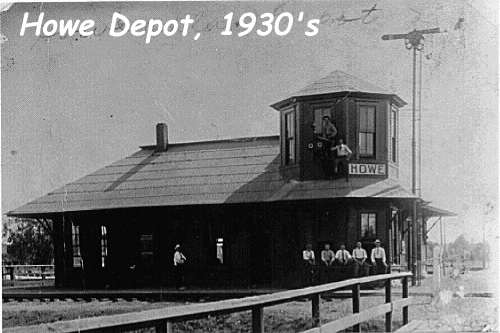 One of the men in the photo is Mr. Mattox who worked for the railroad. Mr. Mattox was the father of Leon Mattox, postmaster in Howe, OK for many years.
In 1936 Mr. Charlie Page came to Howe as superintendent of schools. He immediately began to try to secure new territory for the school district. Ten years later Mr. Raymond Lucas was elected the superintendent of Howe Schools, and he too began to annex territory to the district. Mr. Lucas also saw the need for vocational agriculture. In 1950 he moved buildings in from the Number 10 School District, which had recently been annexed, and a vocational agriculture department was established. In 1953 a building was purchased from Camp Gruber near Muskogee and brought in to house the vocational agriculture department. Soon the school board purchased a pick-up truck for the vocational agriculture department. During the school year of 1954, the people of the community helped build a livestock show barn and pens to accommodate FFA boy's projects. Also Mr. Lucas saw the need for a school cafeteria and new rest rooms, which were built. Then in November of 1958 the gymnasium, cafeteria, rest rooms, and part of the grade school burned. Mr. John Glenn was the superintendent of schools and to him fell the task of directing a rebuilding of the physical plant.
The total enrollment of the Howe schools for the 1959-1960 school year was 244 pupils. Of these, 158 were enrolled in grade school and 86 were enrolled in high school, 41 were enrolled in vocational agriculture. These 41 included all the boys in high school, which means that 100 percent of the boys attending high school are enrolled in vocational agriculture.
Pictures and early history of the City of Howe provided by Levi Brumfield and Leon Mattox.