School Mascott: The Lion
The Lion represents strength and courage

School Colors: Red and White
Red represents Boldness

White represents Purity
School Song:
Oh, when the Howe High School team falls in line,
We're gonna win this game another time.
For the dear ole' school we love so well,
For the Red and White, we'll yell and yell and yell.
We're gonna fight, fight, fight for every score.
We're gonna win this game and win some more.
We're gonna throw ole' (opponent) on the floor, out the door, -- rah, rah, raaahh!
The Gymnasium:
The gym was traditionally known as the "Lion's Den".

When the new gym opened in 2006, it was given the name - "The Jungle". The Welcome to the Jungle video was produced to take advantage of the new video screens in the gym.
High School Coat-of-Arms: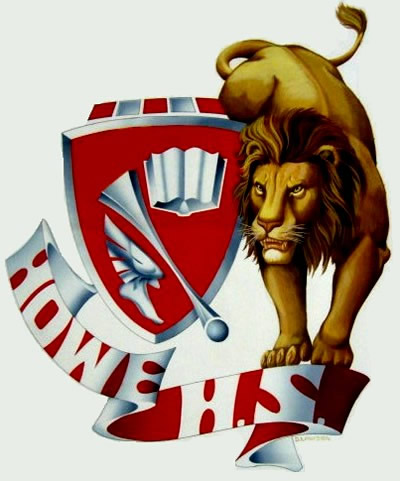 The Symbols:

The red and white colors represent boldness and purity.
The lion represents strength and courage.
The open book represents excellence in academics.
The torch represents a continual search for knowledge.
The winged foot represents an outstanding athletic program.
Howe High School Creed:
As a student of Howe High School, I will do my best to adopt academic excellence. I promise to practice fairness in morality and education. I will encourage rather than intimidate my fellow students. I promise to the best of my ability to establish, enhance and protect the ideals of scholastic achievement and to represent my community in all educational endeavors.