Hand washing is the single most effective way to prevent the spread of infections.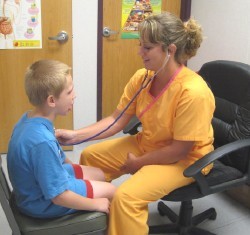 Lori Hall, R.N.
Phone: (918) 658-3508 ex. 212
email: lorihall@howe.k12.ok.us
The nurse's office is in the upper elementary building, Open Daily 8 AM to 3 PM.
How do I know when I should NOT send my child to school?

The National News has been reporting about MRSA and Staph infections. These two facts sheets from the Oklahoma State Department of Health may clear up some common questions and misconceptions. Both fact sheets are in pdf format.

Information about Meningococcal Disease
Parent Information Links:
www.kidshealth.org
Immunization requirements for school children:
The Oklahoma School Immunization Law requires the following vaccination schedule:

Download the immunization schedule (.pdf) from the Oklahoma State Department of Education Web Site.